Watchdoc est recommandé !
Doxense announces Watchdoc Universal Print for Chrome extension and integrates Google's Chrome Enterprise Recommended program. Users of Chromebooks or systems using Chrome browsers can now take advantage of the power and intelligence of Watchdoc to better print, more securely and more responsibly.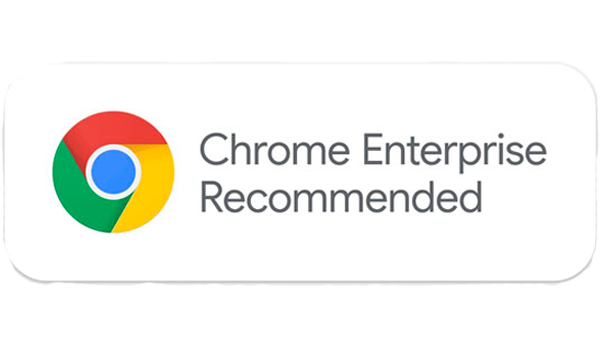 What is Chrome Enterprise Recommended ?
Chrome Enterprise Recommended is Google's partner program that identifies optimized third party solutions to be used into the Chrome OS space.
WATCHDOC UNIVERSAL PRINT FOR CHROME
An efficient and smooth printing path for Chrome device users !
The Chrome Enterprise Recommended badge has been delivered for Watchdoc Universal Print for Chrome (WUP for Chrome). It indicates that Doxense has worked seamlessly with Google to ensure the highest level of Watchdoc technical compatibility and a smooth integration into the Chrome OS. It also means it meets the highest performance standards and is easy to adopt.
Thanks to the WUP for Chrome, it has never been that easy for users to print smoothly and securely from their Chrome devices.
And it's Watchdoc : the best of print management capabilities
WUP for Chrome allow users to print easily from any Chrome browser. It also allow them to take benefits from all Watchdoc advanced and powerful Print Management features : on demand printing, secure printing, printing rules, statistics, print reports, etc.
Les questions fréquentes
As an extension for Chrome OS, Watchdoc Universal Print for Chrome allows users to print from a Chrome device but also to take benefits from Watchdoc rich print management features. Watchdoc Universal Print for Chrome provides similar print service to a print driver but, as part of Chrome platform, it's to be named an extension.
It's a free extension to Watchdoc Print Management system that enables printing from Chrome devices.
Watchdoc Universal Print for Chrome can be downloaded for free from the Chrome Web Store. Upon request, Doxense can also help you with the Watchdoc Universal Print for Chrome roll-out.