BFMTV is talking about us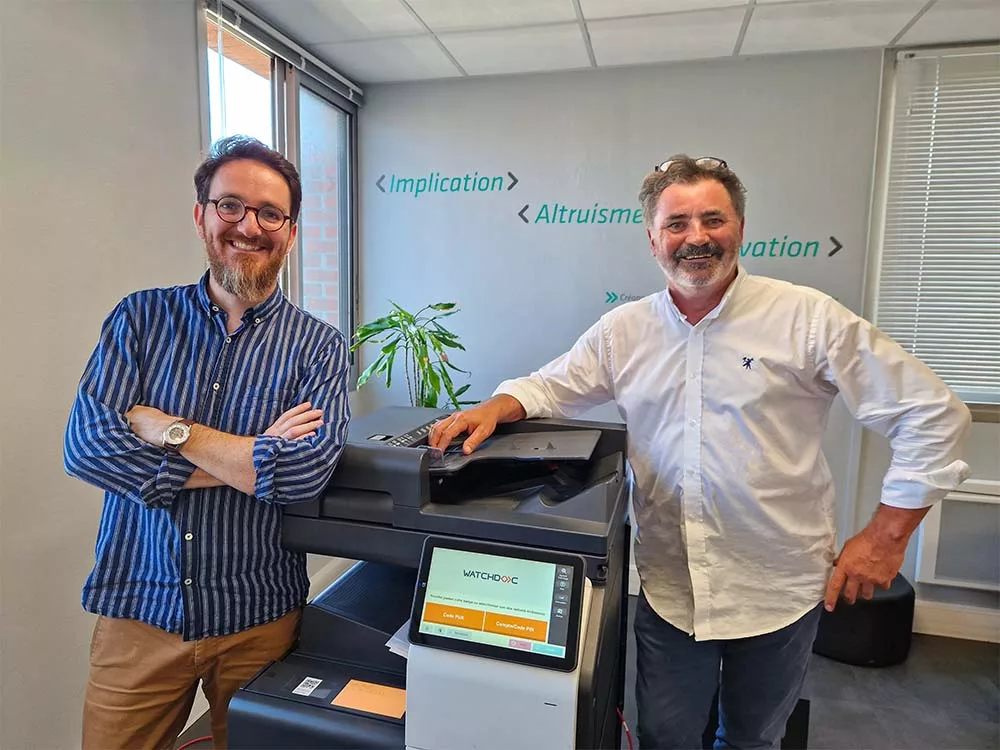 To reduce their environmental impact, businesses can no longer afford to ignore the need for effective print management.
Doxense is a leading provider of printing and scanning software solutions that help businesses reduce the economic and environmental costs and constraints associated with printing. Millions of people use Doxense solutions, with an average reduction of 20% in print-related waste.
Meet Vincent Lemaire, Managing Director, and Grégoire Massy, Marketing and Communications Manager.
Watchdoc software, a benchmark in its market
With 20 years' experience and development behind it, Watchdoc meets the print and scan management needs of large companies in both the private and public sectors. It is distributed via a network of partners to provide the most comprehensive and appropriate response, whether in terms of software, hardware or service. As a "multi-brand" software, it works regardless of the type of hardware used, and adapts to the company's IT environment.
The software, developed and supported in France, "frees companies from the constraints associated with print management, while reducing their environmental impact". It also responds to the needs for security, saving time and simplifying access to documents.
Understanding: the key to taking action and reducing waste
Watchdoc is a tool for managing printing and scanning activities. "It enables our customers to carry out a detailed audit of their printing costs, to control their fleet and to understand their uses, so that they can implement the most appropriate printing policy, thanks to detailed statistics and reports". It is this analysis that helps identify potential savings and optimise management and security.
Once the solution has been installed and deployed on the printers, it can be used to reduce waste and cut costs by implementing a printing policy. Promoting the use of black and white, encouraging double-sided printing or setting up a secure print release system (using a code, badge, etc.) these are all ways of optimising the use of resources. Companies can then change their employees' habits by using tools to communicate better, raise awareness of more responsible printing and automatically reduce waste and their environmental impact.
"Over and above the savings, we have seen a high level of support from our teams when Watchdoc is installed. Everyone is aware of the importance of limiting their environmental impact, and Watchdoc is a particularly effective tool for reducing waste and raising staff awareness of the need to print more sensibly."
A concrete example?
"Recently, a customer was able to reduce the number of pages printed by 40% thanks to its printing policy, while its workforce increased by 40% at the same time! Obviously, each case is specific and the results vary". This customer, in the transport sector, saw their double-sided printing rate increase from 30% to 39% and the colour volume reduced by 23%. Its environmental footprint has been reduced.
Simplicity and efficiency
"The subject of print management is complex and specific to each company. And they no longer wish to be burdened with the constraints associated with it ". In terms of administration, Watchdoc simplifies and streamlines print management, freeing IT teams from as many constraints as possible and saving time on deployment. Security is a key concern for businesses, and Doxense attaches particular importance to it in its developments. Watchdoc provides a high level of security by acting at different levels: user workstations, servers, the printing media themselves and, of course, the software.
It also meets the requirements of the RGPD by making user data anonymous and preserving the confidentiality of documents, thanks in particular to secure document release. A white paper dedicated to securing printing sys is available on the www.doxense.com website.
As far as users are concerned, everything is designed to be as transparent as possible. They can print wherever and whenever they want without having to take any action or settings.
"This helps save overall time for IT teams who should be able to concentrate on something other than responding to requests for print queue installations, for example. And to free businesses from constraints as much as possible, Doxense's support makes the difference. "In fact, we are renowned and recognized for the ultra-customisation of our solutions."
Dynamic development
"In the very short term, our software is evolving to provide even greater security, simplicity, automation and mobility. In its new version and with a redesigned architecture, Watchdoc will provide greater centralisation, greatly simplifying management and deployment for remote sites. The emphasis is also on the high availability of systems and documents.
Beyond the continuous improvement of its software and its adaptations, Doxense's aim is to enable companies of all sizes to free themselves from the constraints of document management in general. The company's growth will also be international, thanks to its new German partner Bechtle, which will distribute Watchdoc.
And thanks to its financial partners, who recently renewed their confidence, Doxense will be able to accelerate its growth by recruiting new employees. "Print, breathe! Doxense frees your company from the constraints of print management".
This content was produced in partnership with SCP. The BFM Business editorial team was not involved in the production of this content.